In this tutorial, you will learn to install IPTV Smarters on FireStick , also Fire TV Stick Lite, Fire TV Cube, & FireStick 4K. I have also provided quick methods to install IPTV Smarters on Android TV Boxes, Smart Android TVs, and iOS devices (iPhone, iPad, & iPod Touch).
This guide will show you how to install IPTV Smarters on Firestick, Android, iOS, and even Roku devices.
IPTV Smarters is one of the Best IPTV Players available that works on just about every device imaginable.
This is a fabulous option for pairing with popular IPTV Services that provide an M3U playlist.
One of the main reasons this app has gained so much popularity is due to the fact that it is compatible with iOS and Android Mobile devices. That means you can stream live television wherever you are!
This works similar to other IPTV players such as TiviMate or iMPlayer.
The tutorial below will show you how to install IPTV Smarters on multiple devices. The first method will show you how to install this app on an Amazon Firestick 4K.
The Amazon Firestick is the most popular device for IPTV Smarters due to its low price and jailbreaking abilities.
We must side-load this application on Fire TV devices due to the fact that it isn't available inside the Amazon App Store.
IPTV Smarters a.k.a IPTV Smarters Pro is an IPTV platform from where you can access channel playlists from multiple IPTV subscriptions. It is somewhat an IPTV management service, much like Smart IPTV. However, unlike Smart IPTV that requires a one-time activation fee, IPTV Smarters is free (there is a paid version too with additional features, but all the basic services are free).
Please note that IPTV Smarters Pro does not provide any IPTV services. Meaning, it does not host any channels or does not have any playlist of its own. To use this service, you will need to use the login credentials of another IPTV service. In other words, you must already have a subscription from an IPTV service provider to use IPTV Smarters on FireStick and other devices.
IPTV Smarters works only with the IPTV services that support M3U Playlists or have an Xtream Codes API.
The biggest advantage of IPTV Smarters is that it allows login from multiple IPTV subscriptions. If you use multiple IPTV services, you can access all of them from one location, IPTV Smarters. Also, the app has a user-friendly interface allowing a great streaming experience.
IPTV Smarters also lets you install and use EPG if it is included with your IPTV subscription plan.
Easy way to install IPTV Smarters Pro on FireStick
Even though IPTV Smarters Pro is listed on Google Play Store and Apple App Store for Android and iOS mobiles respectively, Amazon Store does not host it. Therefore, if you want it on your FireStick, you will need to sideload it. We will download IPTV Smarters APK using the Downloader app.
1. We will first install the Downloader app
This app will help you sideload IPTV Smarter on FireStick (because browser downloads are not allowed)
2. Click the Find > Search option on the home screen of FireStick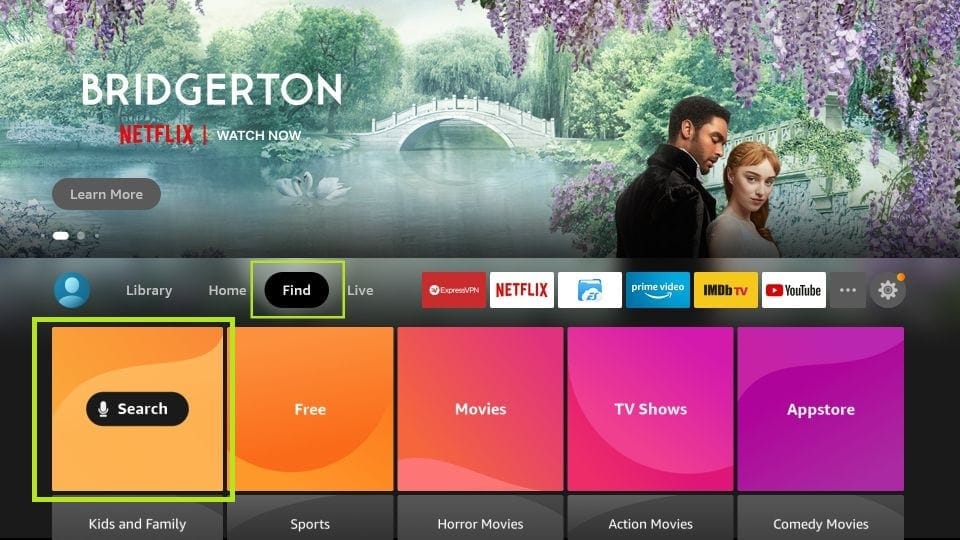 3. Type the name of the app (which is Downloader)
Click the Downloader option when it is displayed in the search results
Choose the Downloader icon on the following screen and download and install the app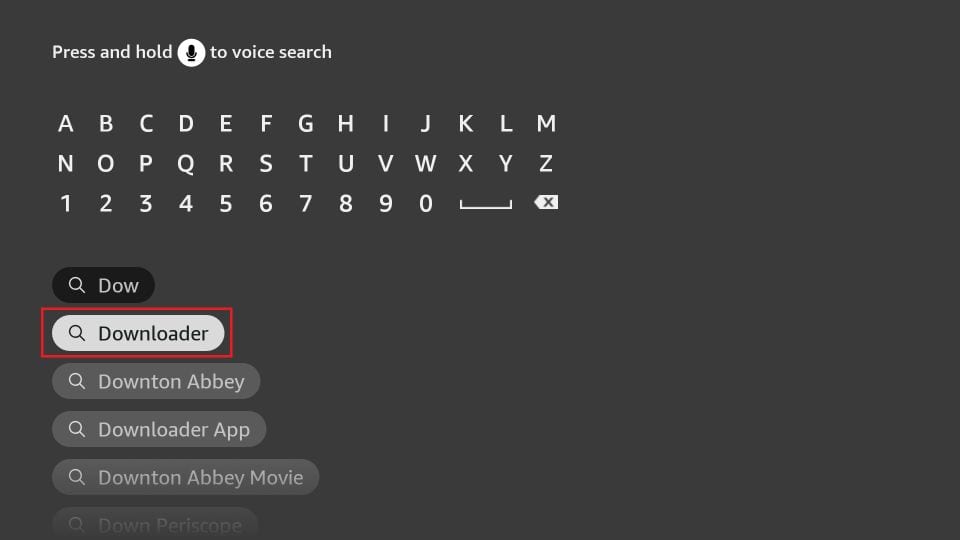 4. Get back to the home screen of FireStick after installing the Downloader app
In the menu bar, click Settings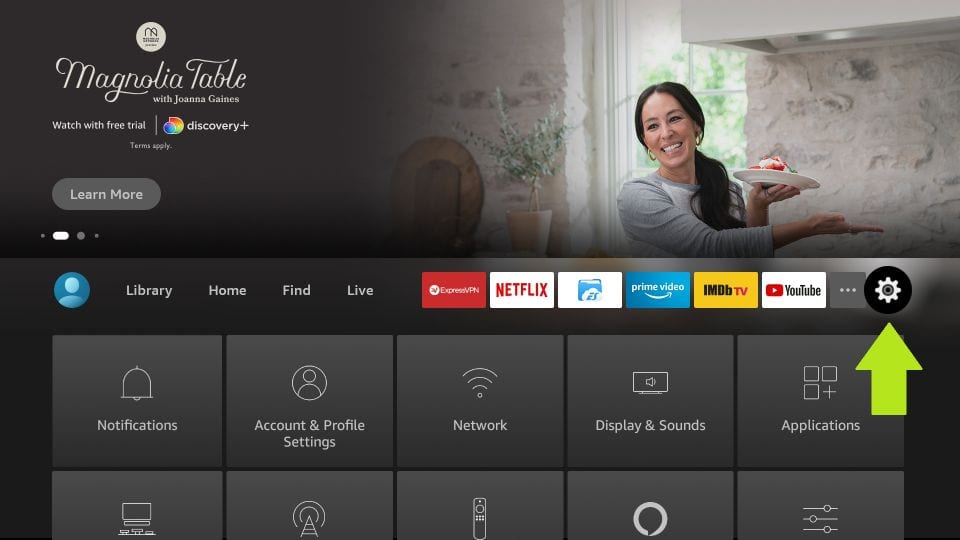 5. In the Settings, choose the option My Fire TV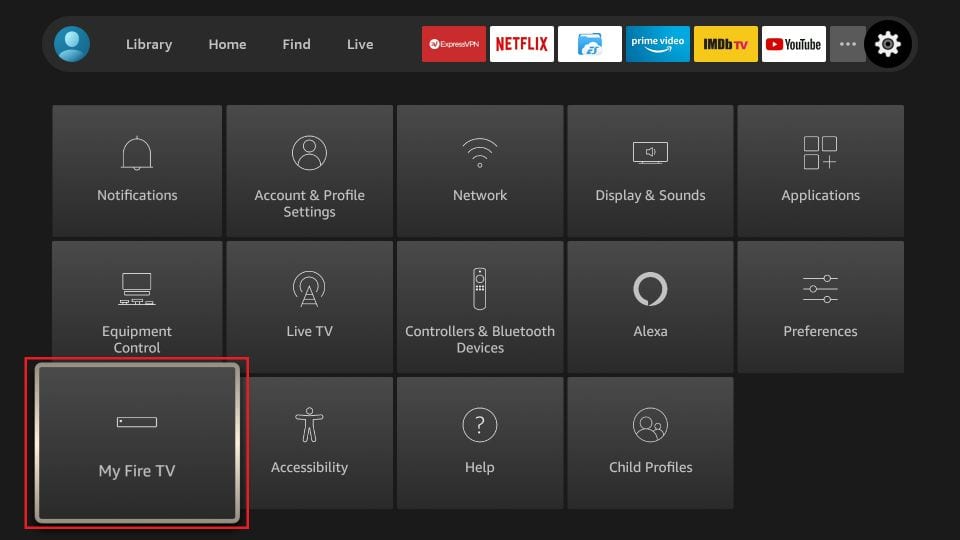 6. When the following set of options are displayed on the next screen, click Developer Options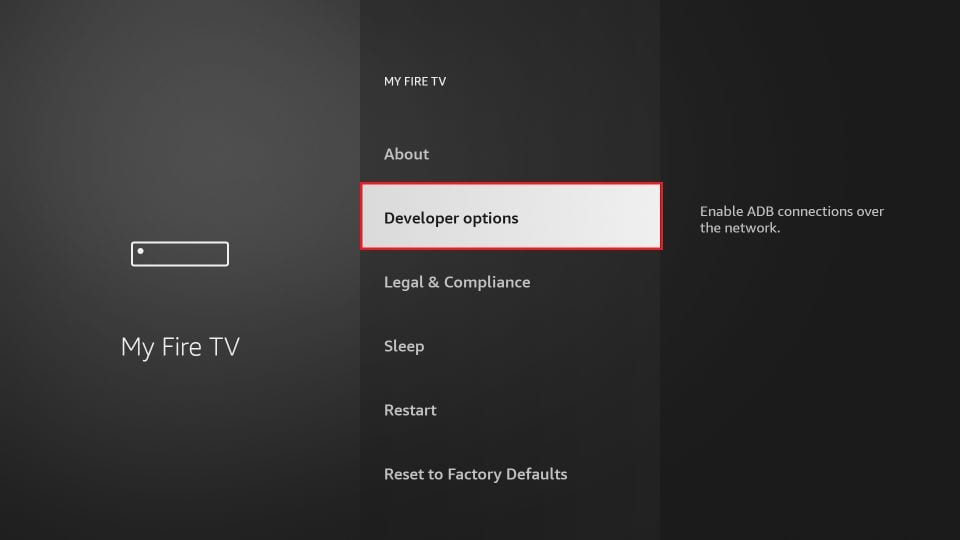 7. Click Install from unknown apps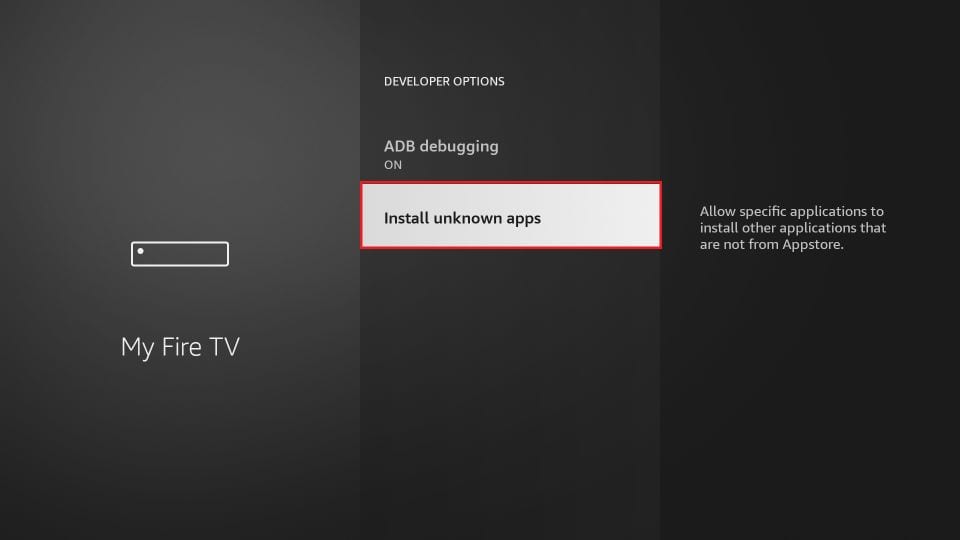 8. Click Downloader to change the status to ON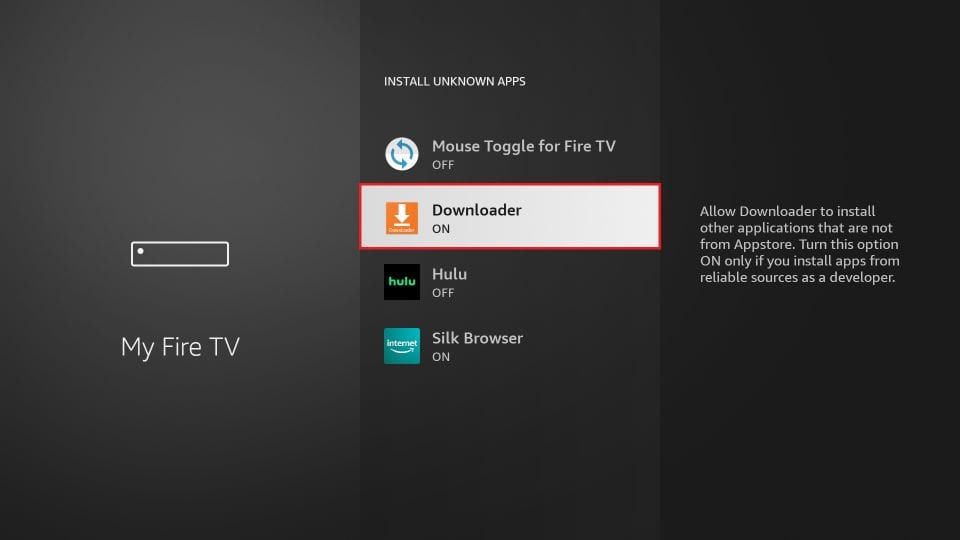 With this, you have configured the FireStick settings to allow the installation of IPTV Smarters and other third-party apps. Follow the steps below:
9. You may now open the Downloader app
When you run this app for the first time, a set of prompts will appear. Dismiss them until you see the following screen
On this screen, you need to click the URL textbox on the right side (make sure Home option in the left menu is selected) where it says 'http://'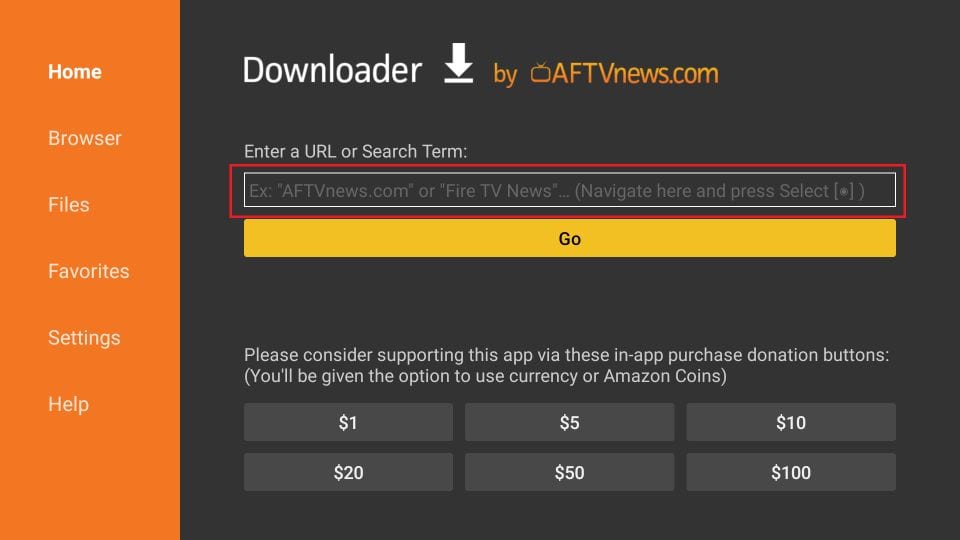 10. Go ahead and enter the following path on this window: https://www.firesticktricks.com/smarter
Note: You may also use the shortened version of the URL firesticktricks.com/smarter
Click GO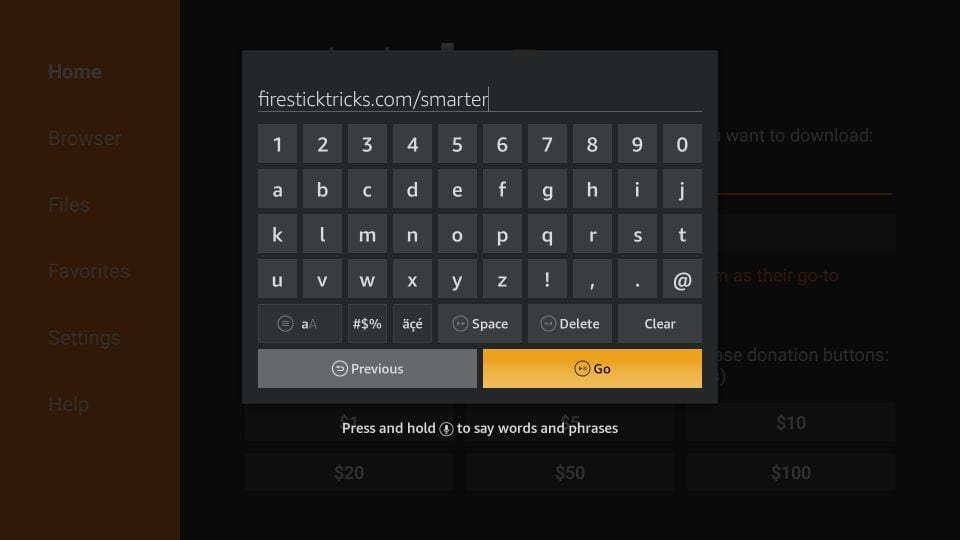 11. Give it a minute or two until the IPTV Smarter is downloaded onto your FireStick device

12. When the download has completed, the Downloader app will run the APK file and the installation will start
Click Install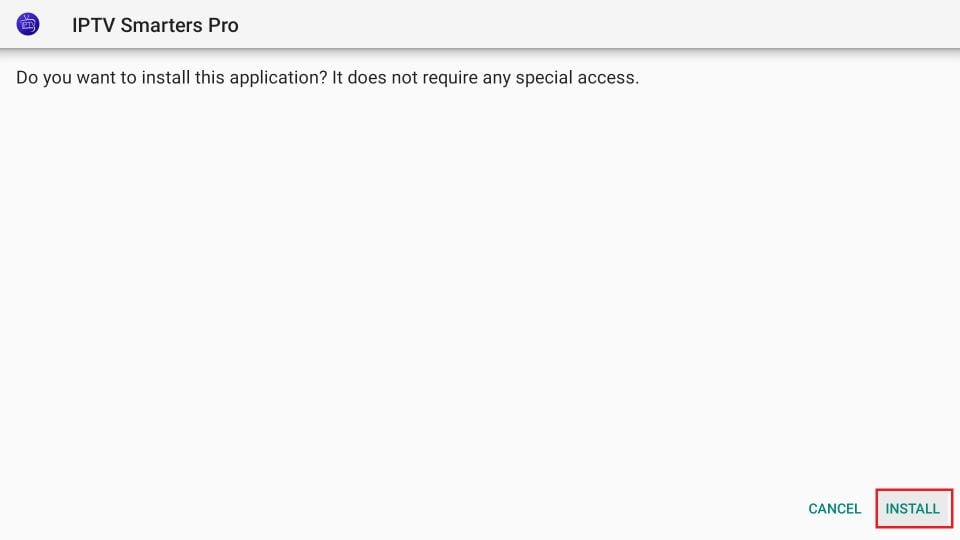 13. Wait for the installation to finish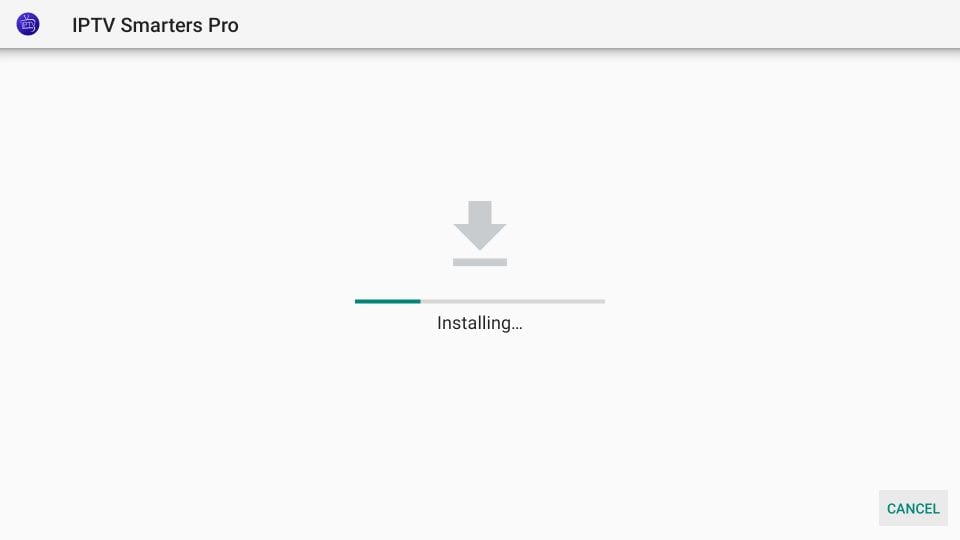 14. Installation is concluded with the App installed notification
You may now choose to click OPEN and get started with IPTV Smarters
I recommend choosing DONE so that you may first delete the APK file and save some space on the FireStick storage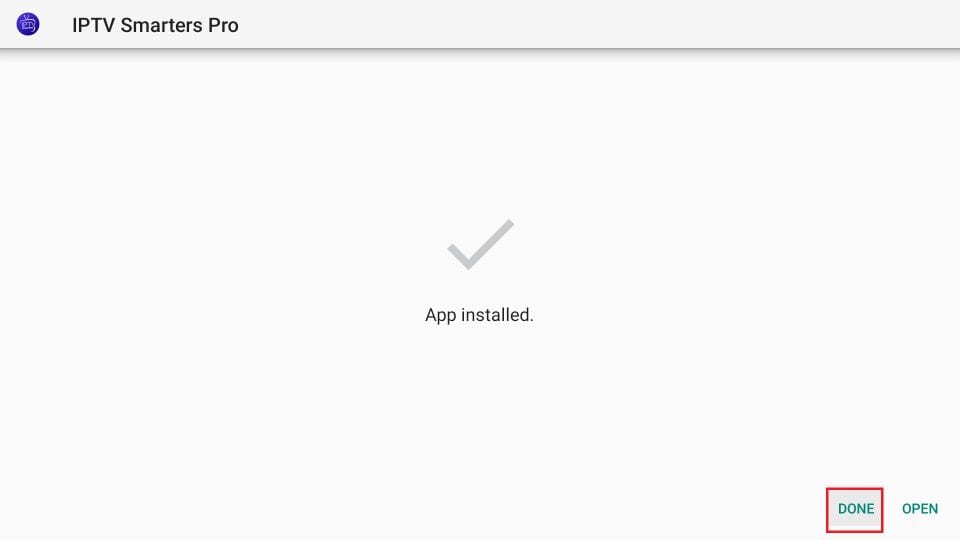 15. If you clicked DONE above, you will be back on the Downloader interface
Click Delete

16. Again, click Delete

Great! You now have the IPTV Smarters app on FireStick.
HOW TO Setup IPTV Smarters
After opening IPTV Smarters app,  you will see the "Terms of Use" agreement.
Click Accept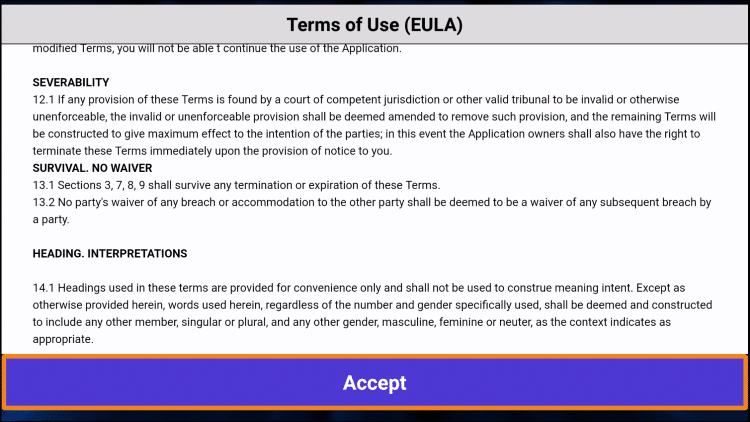 Click Add New User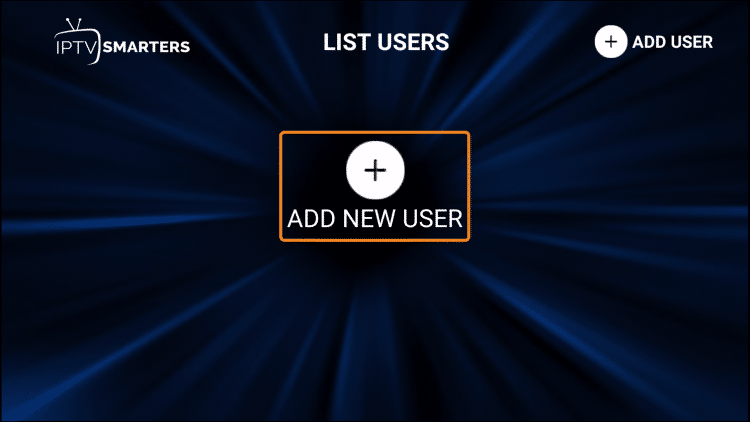 Choose login with Xtream Codes API
OR
If your IPTV Provider does not have an Xtream Code, you can use an M3U URL and choose to Load Your Playlist or File URL
Most M3U URLs require that you input your service username and password. You will usually see where these go inside the URL as they are indicated by "username=xxxx" & password=xxxx". You will input your username and password where the x's are located.
Here is an example of an M3U URL. This is not a real M3U URL but this is how the structure typically looks.
http://liveiptvservice.org:86/get.php?username=xxxx&password=xxxx&type=m3u_plus&output=ts
Because these M3U URLs are so long to type, we recommend using an API or Xtream Code if applicable.
Enter account information and click Add User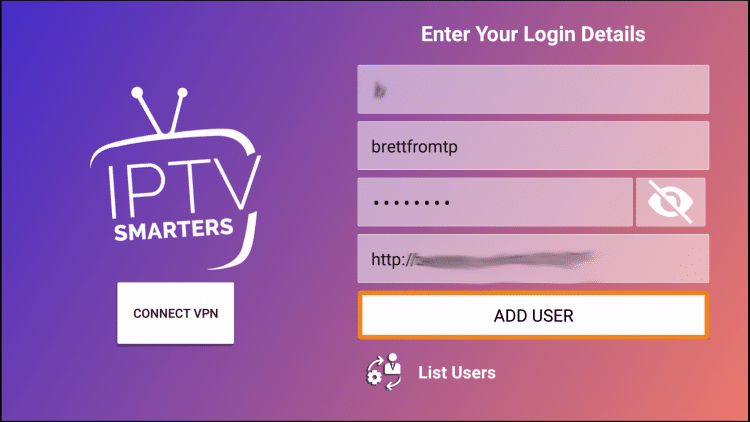 Wait for User added successfully message to appear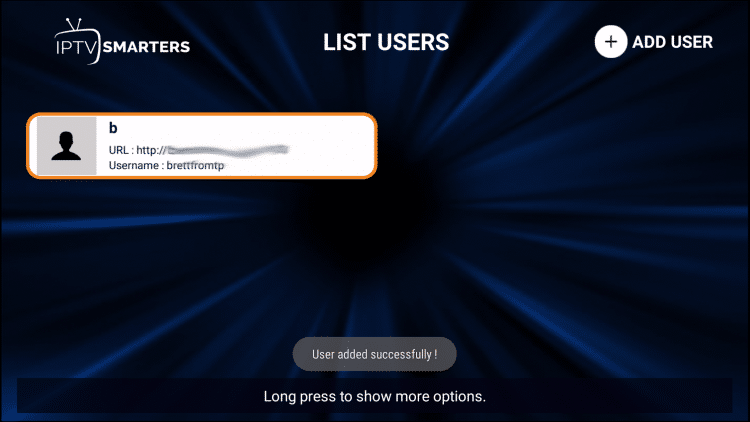 Click your Profile and enjoy!